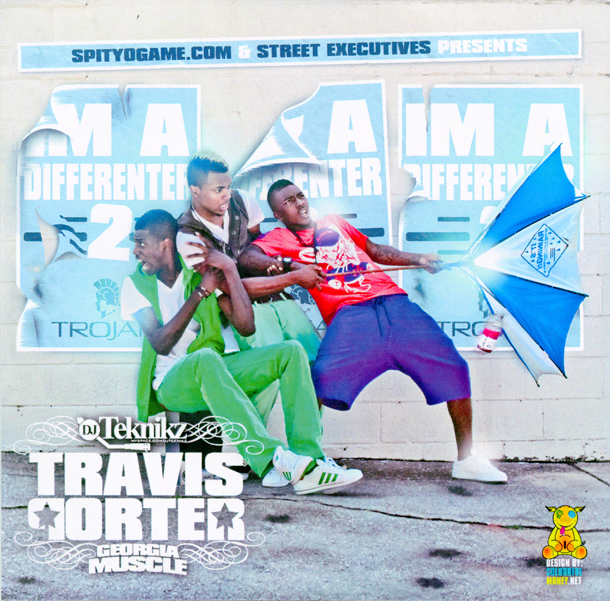 Announced yesterday – Travis Porter have signed to Jive Records. It's only been a couple years – but if you've been following them, it kinda seems like it took forever. In July 2009 I shot the cover for their second mixtape Im A Differenter 2.
"The idea was to have the mixtape cover look like the poster for that Paul Rudd movie Role Models. CEO Charlie was telling me this over the phone. Paul Rudd is taking a piss on a wall, and the other dude, Sean William Scott, is sitting on a curb drinking a beer. So I found a white wall and we shot something like that, with a third guy hanging off the wall." Someone pulled an umbrella out of one of the cars they'd came in. "The umbrella stuff looked better in the end. I gave Charlie the files, and he sent them off to a kid in Florida who does mixtape designs for a hundred bucks." – Pg. 217 of Atlanta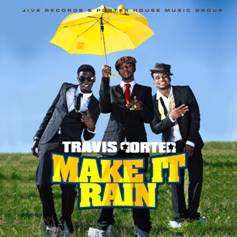 Their latest – and best shot at a hit yet- 'Make It Rain', is dirtier and darker and more minimal than the early work (also, the umbrella makes more literal sense here). If anyone's keeping track, Im A Differenter 2 might well end up being the best relic of 2009 Swag excess and glory. There's a bunch of great Uncle Cracker and All American Rejects influenced songs, one legitimate hit – the original version of 'Turnt Up', as well as a pre- 'Bedrock' use of that same Kane beat on A.D.I.D.A.S. 'Im A Differenter', the title track, is easily one of the catchiest songs to come out of Atlanta in the last five years – I still don't know why it hasn't crossed over – seems like the perfect song for the trailer of a Paul Rudd buddy picture.

Im A Differenter — TRAVIS PORTER, 2009

|
|